About us
> Website design team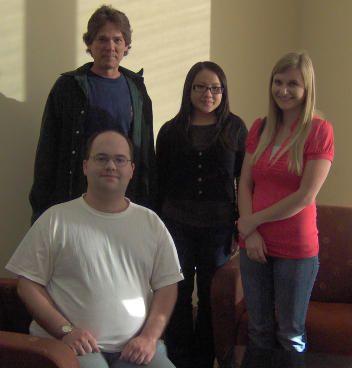 Alex Hedin:
Alex is working on completing her Bachelor of Arts in Professional Writing and a minor in Creative Writing at Metropolitan State University. She will be finished in June 2011 and hopes to find a job as an editor or working for a publishing company. A career in web design also interests her- whether it's writing or designing for the web, or both. She loves to write and hopes to publish a novel one day.
Blaine Huberty
: Blaine is a part time student at Metropolitan State University, majoring in Technical Communications with an expected graduation date of December 2010. Blaine hopes to become a full time technical writer. He also contributes to the Metropolitan Newspaper, Metro State's student newspaper as a staff writer.
Vickie Lee-Her:
Vickie is pursuing a Masters in Technical Communications. She is currently working as a Staff Assistant at a local private liberal arts college where she focuses on newsletter writing and production, website management, and budgeting. After completing her degree, Vickie plans on continuing her work with local nonprofits and the education industry.
George Valier:
George Valier is a part time student seeking a degree in Technical Communications. During the daytime hours he is a Field Service Technician working on retail loss prevention equipment.